Havre du Parc, Inn
A haven of peace for lovers of nature
2788 route 125 Nord St-Donat de Montcalm, Québec, Canada J0T 2C0
819-424-7686 (Vox)
819-424-3432 (Fax)
800-906-7686 (toll free)
info@havreduparc.qc.ca
FRANÇAIS | ESPAÑOL

Write to us!
Rooms and chalets | Terrace | Rates | Map | Photographs | Correspondence
---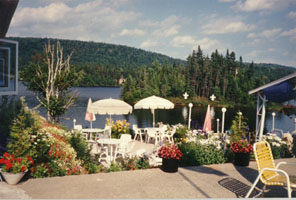 Havre du Parc! What a place to spend your holidays or vacation. You will find everything to make your sojourn a success: quietness, clean air, magnificent landscape and an intimacy with nature.

Our little Inn will seduce you by its charm, and warm surroundings in the heart of the Laurentians near the Mont-Tremblant Park. A haven of peace, natural beauty, and a discrete paradise on the edge of Lake Provost, in St-Donat de Montcalm, Quebec, Canada. Our rooms are spacious and confortable and our dining room has a full view on the Lake. In season, our gardens flourish with plants and flowers. A fountain completes this enchanting scenery.

Activities in our wonderful fresh air will delight you! Nature and sports lovers : swimming, windsurfing, canoeing, golf, rowboats, pedal-boats, walking and hiking, horseback riding, bicycling, all available at the Inn or nearby. We have storage space for your own personal equipment, for example, canoes, windsurfers, skis, etc…

Nature in its mantle of snow : crosscountry skiing, snowshoeing, downhill skiing, snowmobiling.

Nature in blossom : relax on our Terrace amidst Quebec's flower garden.

Winner of Maisons Fleuries (flowers) 1993 contest.

Within a stone's throw of Mont-Tremblant Park, wander through a vast network of well-kept trails and discover Quebec's beautiful fauna, flora and waterfalls.

Come with us and taste the pleasure of the four seasons. You will come back.

Your Inn keepers: Raymond Legault and Luc Taillefer.

See our map for directions of how to get there.


---
Site managed by: Pierre Forget Computer Service