Our terrace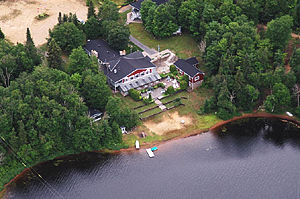 Our terrace is ideal to relax. As soon as the season begins, flowers bloom everywhere and mix with this exceptional environnement. The view of the Lake is so gorgeous that it will become a memory to behold.

You can observe the passage of time through the rythm of nature. Birdwatch, listen to the rustling of the leaves, get in contact with this omnipresent nature. See the softness of our mountains and the deep blue of Lake Provost waters. Even during stormy weather, the rolling of thunder echoing through the mountains is unforgettable. You will have a first place view of a superb light and sound show.

In season, it is an ideal place to take your breakfast. The morning mist and the pure air will awaken your senses putting you in shape for the new day ahead. As the morning sun rises and warmth surrounds you, the temptation for swimming becomes great, go for it: this water is pure.